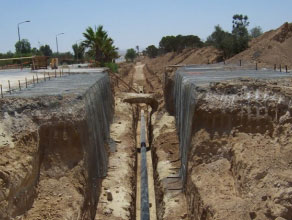 JET FUEL SYSTEM; Nevatim AFB, Israel
The project included the new construction of a fuel distribution system which consisted of a main distribution piping line that is 14" diameter sizing down to 10" and 8" diameters at the arterial filtration facilities. The fuel pumps included four vertical suspended turbine, 600 GPM; two jockey pumps, 200 GPM; two each drain pumps, 50 GPM; four tank truck unloading pumps, 300 GPM; and one transfer pump, 200 GPM. The filtration system includes approximately 300 Filter-Strainers and Filter Separators. Other work included a new Tank Truck Unloading Facility with four truck positions; a Fuel Receiving building; two fuel storage tanks with a capacity of 1,000 Cu.M / 264,200 usg; numerous Fuel Slops Collection tanks; and a Fuel Filtering Building.
Jet Fuel Station #1 – a fuel tank truck unloading facility, fuel slops collection system and oil-water separation system, underground fuel mains, valve chambers, and low point drains.
Aircraft Shelter Area – fuel distribution system, filtering equipment and fuel distribution equipment, aircraft refueling positions, and valve chambers. Electrical work will include cathodic protection, electrical distribution and control systems.
Aircraft Sheds Areas – fuel filtering equipment and fuel distribution equipment, slops collection tanks and oil-water separators, valve chambers, and aircraft refueling positions.
COMPLETION:
2005